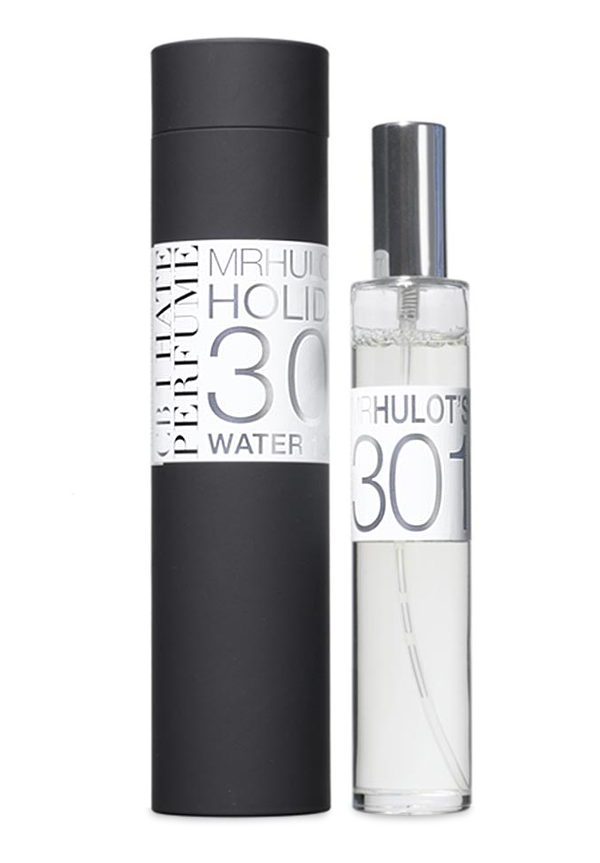 I first heard of
CB I Hate Perfume
through a friend about a year ago and was intrigued right from the start.
CB's angle on fragrance is that so many people do it wrong, why not do it right? "Right" in his book means perfume that is an artisanal product, carefully blended, subtle and powerful instead of brash and overwhelming, stylish and eccentric. The rather clunky name of CB I Hate Perfume is explained in the
perfumer's manifesto
.
The names and descriptions of the unconventional scents made my ears water and were music to my mouth. "Under the Arbor"? Yes please, in Tuscany, please! And "In the Summer Kitchen"? Just let me slip into my sundress! "Russian Caravan Tea"? Oh,
Большое спасибо
! Finally, I followed my Francophile heart and bought "Mr. Hulot's Holiday" online.
The next week, I was immediately a little disappointed upon opening the package. Inside was a sort of flimsy cardboard tube containing a squat little chemistry class bottle. I was silly to be disappointed, since Luckyscent clearly displays what you're going to get. CB says that he believes perfume shouldn't be about packaging, but for me, design is as much a spice of life as scent. Even rougher, more artisanal would have been great; slicker and more commercial would have worked, too. But to my taste, CB's design was an unhappy medium between the two.
When I applied the perfume, I was shocked and even more disappointed. My immediate reaction was, "
God. Damn.
This smells like one of those bright blue scented candles called 'Air' or 'Ocean Fresh' that you see at the supermarket!" Over the next 20 minutes, I calmed down a bit as the scent matured and became slightly more nuanced. It never got as complex as I had wanted it to. I never could manage to smell the
"driftwood, seaweed-covered rocks, well-traveled leather suitcases and salty Mediterranean breeze"
promised to me in the description. After wearing it a few times and feeling bitter about the $55 I had squandered, I got rid of it. (In fact, I confess that I regifted it to a friend of a friend! Bad form, Natasha!)
I am
for sure
one of those over-read, hiply-square girls. One of those young women who appreciates oddballs and rejoices in individuality, to the point that she has a bit of trouble reminding herself that individuality can be just as much of a selling point as conformity, and being "indie" is...well...pretty mainstream. One of those young women who, I am
positive
, make up a huge percentage of CB's clientele. But I don't think I'll fall for the flowery prose and the "feeling unique" again. Fragrance is poetry, to be sure, but poetry is not fragrance.
I'm going to stick the the world of perfumes as they are: some outrageously bad, some screamingly good. CB's attitude reminds me too much of a pretentious media artist I once knew who claimed there were only two coffee shops to get decent espresso in the United States. When I want a more unusual fragrance, I'll head to
Demeter
, the company
CB used to work for
. There I can get my dandelions, musty libraries and grape leaves on for a much more affordable price.
Besides: I kind of welcome the occasional obnoxious perfume. When I was 22, I wore
Anna Sui's eau de toilette
, a scent I think of now as
truly
horrible, way too stickily sweet. But I love catching a whiff of it to this day because I think of dumb, young me in my skivvies, holding my then boyfriend on his too-small bed.
If you want to give CB I Hate Perfume a try, then sample, sample, sample. Reviews on Luckyscent and several other websites will show you how divided people are about this line. Make sure you take your own word for it by sampling at the CB I Hate Perfume studio in Brooklyn or through the website.